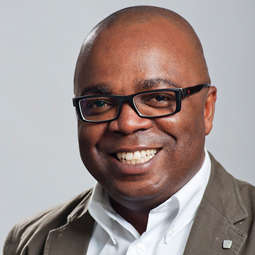 Prof. Samuel Gyamfi is an expert in the Energy Efficiency and Renewable Energy Sector with a wealth of experience from over 15 years of practice. His main area of interest is in Utility Demand Side Management but he also has interest and experience in Electricity Demand Response Assessment and Modelling, Energy Economics and Policy, Renewable and Sustainable Energy for Developing Countries and Energy Life Cycle Assessment.
He is a member of Engineers Australia and International Solar Energy Society. He is currently a Senior Lecturer at the University of Energy and Natural Resources.
Courses Taught at the Graduate Level
SEMA 502: Energy Efficiency and Management
SEMA 536: Energy Storage and Conversion System 
| Institution (Start – End dates) | Degree(s)/Diploma(s) /Certificates obtained |
| --- | --- |
| University of Canterbury, New Zealand; 2006 – 2010 | PhD (Mechanical Engineering -Energy Systems) |
| University of Applied Sciences, Aachen, Germany; 2002-2004 | MSc (Energy Systems) |
| Kwame Nkrumah University of Science and Technology; 1997 – 2001 | BSc Geodetic Engineering |
| European Safeguards Research and Development Association (ESARDA), JCR-European Commission, Ispra, Italy; 2008 | Nuclear Safeguards and Non-Proliferation |
My main research interest is in utility demand side management and the way that human factors can be used to develop technology and communication systems to improve energy efficiency behaviour. I have experience and interests in several related areas.
Energy Efficiency and Demand-side Management
Energy Economics and Policy
Renewable and Sustainable Energy for Developing Countries
Energy Life Cycle Assessment
Other Publications (conference)
Owusu J. J., Gyamfi S, Israel J. (2017) Household Electricity Tariff And Life Line Charges In Ghana – Policy Mismatch Presented at the International Conference on Climate Change and Sustainable Development, 25 July – 28 July, 2017, Eusbett International Conference Center, Sunyani, Ghana. (Conference Contribution – Full Conference paper)
Domfeh M. K, Gyamfi S, Amo-Boateng M, Andoh R, Ofosu A. E, Kabo-Bah A. (2017) Intake Flow Simulation And Optimisation For Akosombo Hydropower Project Using Computational Fluid Dynamics: Concept And Methodology. Presented at the International Conference on Climate Change and Sustainable Development, 25 July – 28 July, 2017, Eusbett International Conference Center, Sunyan, Ghana. (Conference Contribution – Full Conference paper)
Tieyiri V. G, Gyamfi S. (2017) Climate Change Impact on Africa: What does the Literature Say? Presented at the International Conference on Climate Change and Sustainable Development, 25 July – 28 July, 2017, Eusbett International Conference Center, Sunyan, Ghana. (Conference Contribution – Full Conference paper)
Rahman M., Hettiwatte S. Gyamfi, S (2014) An Intelligent Approach of Achieving Demand Response by Fuzzy Logic based Domestic Load Management Australasian Universities Power Engineering Conference, AUPEC 2014, Curtin University, Perth, Australia. 28 September – 1 October, 2014 (Conference Contribution – Full Conference paper)
Gyamfi S., Krumdieck S.P, and Brackney L. (2010) Pattern Recognition Residential Demand Response: An Option for Critical Peak Demand Reduction in New Zealand. Presented at the 4th international conference on sustainable development, 30 November – 3 December 2010, Auckland. (Conference Contribution – Full Conference paper)
Watcharasukarn M., Krumdieck S. and Gyamfi S. (2009) Travel Behaviour under Fuel Constraint Study: TACA SIM. Hong Kong: International Conference on Applied Energy, 5-7 Jan 2009. (Conference Contribution – Full Conference paper)
Gyamfi S., Krumdieck S. and Brackney L. (2008) Demand Response in the Residential Sector: A Critical Feature of Sustainable Electricity Supply in New Zealand. Auckland, New Zealand: 3rd International Conference on Sustainability Engineering and Science, 9-12 Dec 2008. (Conference Contribution – Full Conference paper)
Oduro A. M., Gyamfi S., Sarkodie A.S., Kemausuor F. (2019) Evaluating the Success of Renewable Energy and Energy Efficiency Policies in Ghana: Matching the Policy Objectives against Policy Instruments and Outcomes. Renewable Energy – Resources, Challenges and Applications. 2020 | journal-article DOI: 10.5772/INTECHOPEN.88278
Gyamfi S., Derkyi N.S.A, Asuamah E.Y, Aduako J.A. (2018) Renewable Energy and Sustainable Development. In Kabo-bah A; Diji, C. J., Sustainable Hydropower in West Africa : 75 – 93. Academic Press. An imprint of Elsevier.

https://doi.org/10.1016/B978-0-12-813016-2.00006-X

  
Gyamfi S., Derkyi N.S.A, Asuamah E.Y (2018) The Potential and the Economics of Hydropower Investment in West Africa. In Kabo-bah A; Diji, C.J., Sustainable Hydropower in West Africa: 95 – 107. Academic Press. An imprint of Elsevier. https://doi.org/10.1016/B978-0-12-813016-2.00007-1
| | Scopus | Publons | Google Scholar |
| --- | --- | --- | --- |
| Author ID | 37067232400 | AAE-6456-2021 | LVwLl-oAAAAJ |
| Number | 19 | 18 | 32 |
| Citations | 518 | 456 | 916 |
| h-index | 10 | 10 | 12 |
| i10 index | – | – | 12 |