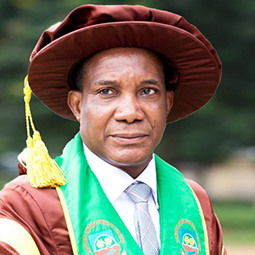 Professor Harrison Kwame Dapaah who was born on 7th June, 1961 at Yeji in the Pru District, had his basic education at the Kojo-Bofour Primary and L/A no. 4 Middle School, Yeji in the Brong-Ahafo Region. He had his secondary education at Ghana Secondary School, Tamale and Dormaa-Ahenkro Secondary School, Dormaa-Ahenkro where he obtained his GCE 'O' level and 'A' level certificate, in 1980 and 1982, respectively. He obtained his BSc. (Hons.) Agriculture (Crop Science option) degree from the University of Ghana, Legon in 1986; MSc. (Crop Science) in 1992 from the University of Guelph, Guelph, Ontario, Canada under the Canadian International Development Agency (CIDA) scholarship; and PhD in 1997 from Lincoln University, Canterbury, New Zealand, under the New Zealand Official Development Assistance (NZODA) scholarship. At Lincoln, he also won the Lincoln University Graduate Scholarship in 1995. He also obtained a Diploma in Education certificate from the University of Education, Winneba in 2011.
Prof. Dapaah began his career in 1988, as an Assistant Research Scientist at the CSIR-Crops Research Institute (CSIR-CRI), Kumasi. He rose steadily through the ranks becoming Research Scientist in 1993, Senior Research Scientist in 2001 and Principal Research Scientist in 2005. He headed the Root and Tubers Division at the CSIR-CRI and led the Sweet-potato Improvement Programme in Ghana from 2004-2008. Under his leadership, four sweet potato varieties were released to farmers including the current highlypromoted and patronized pro-vitamin A orange-fleshed sweet potato variety "Apomuden" in the country.
At CSIR-CRI, he coordinated several multi-institutional and multi-country projects including the World Bank-funded West Africa Agricultural Productivity Programme (WAAPP); DFID-funded Strengthening Capacity for Agricultural Research and Development in Africa (SCARDA); International Potato Centre (CIP)-funded Sweetpotato Harvest Plus; and the Research-Extension-Farmer Linkages Committee (RELC) Coordinator for Brong-Ahafo region from 2003-2008. He played a key role in getting the Bill and Melinda Gates Foundation-funded Sweet potato Action for Security and Health in Africa (SASHA) project to Ghana, under which "Apomuden" is being promoted to fight against vitamin A deficiency in infants, pregnant and lactating mothers. He has also consulted for the Food and Agriculture Organization (FAO) and the West African Centre for Agricultural Research and Development (WECARD/CORAF); and was a member of the team that conducted the Baseline Study for the West Africa Agricultural Productivity Programme (WAAPP) in Ghana.
He served on several committees at the CSIR-CRI including Internal Management Committee (IMC); Project Development, Implementation, Monitoring and Evaluation Committee (PRODIMEC); Promotion Screening Committee; Committee to restructure Divisions at CSIR-CRI and CSIR-CRI RTIP/RTIMP Implementation Committee. He was also the National Vice-President for the Research Staff Association (RSA) of CSIR (2007-2009); the Local Secretary for CSIR-CRI RSA from 1998-2003; Member, CSIR-CRI Credit Union Management Committee (1999-2001) and Technical Editor for the Agricultural and Food Science Journal of Ghana (2004-2009).
In 2009, Prof. Dapaah joined the University of Education, Winneba, Asante-Mampong campus as a Senior Lecturer at the Department of Crop and Soil Sciences Education; and was subsequently promoted to the rank of Associate Professor in 2010 and Full Professor in 2014. Until his appointment as the Vice-Chancellor for UENR, Prof. Dapaah was the Principal of the College of Agriculture Education (CAGRIC) of the University of Education, Winneba, Mampong campus, a position he had occupied since October 1, 2012.
From October, 2014 to April 2015, Prof. Dapaah also had oversight responsibility as Acting Principal for the UEW-Kumasi campus' College of Technology Education (COLTEK) until a substantive Principal was appointed.
Prior to being appointed Principal for CAGRIC, he was the Acting Head of the Department of Crops and Soil Sciences and Coordinator for Graduate Studies at Mampong Campus (2010-2012). Under his leadership, CAGRIC attracted numerous externally funded projects. At UEW, he was a member of over 30 Committees and Boards, out of which he served as Chairman for 10 committees. He was the Chairman of the UEW 2014-2018 Strategic Plan Development Committee.
Prof. Dapaah has considerable experience in management, research and development; and has participated and presented papers at numerous conferences, workshops and seminars. He has authored/co-authored over 80 referred journal publications, edited conference papers, books/monographs and research reports to his credit. He continues to provide editorial and review services to a number of journals and book publishers. He is a member of several professional bodies including Ghana Science Association, Plant Breeders Association of Ghana, Ghana Institute of Horticulturists, Agricultural Biotechnology Network in Africa (ABNETA), International Biometrics Society (SUSAN), African Crop Science Society and International Society for Tropical Root Crops (ISTRC). Prof. Dapaah is married with three children.