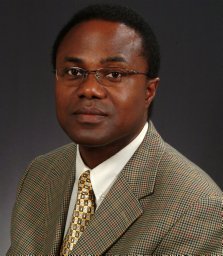 Kodjo Agbossou (M'1998, SM'2001) received his B.S. (1987), M.S. (1989) and Ph.D. (1992) degrees in Electronic Measurements from the Université de Nancy I, France. He is now a Head of Engineering School of Université du Québec à Trois-Rivières (UQTR), and Full Professor in the Electrical and Computer Engineering Department of UQTR. He was the head of the department. He was also the Director of Graduate Studies in Electrical Engineering.
His present research activities are in the area of renewable energy, smart grid, integration of hydrogen production, storage and electrical energy generation system, hybrid electrical vehicle, control and measurements. He is a member of Hydrogen Research Institute and Research group "GREI" of UQTR. He is member of IEEE Societies: Power & Energy Society, Industry Applications Societies, Communications Society, and Industrial Electronics Society Technical Committee on Renewable Energy Systems.
He is the author of more than 180 publications and has 4 patents. Prof. Agbossou is also a former Chair of IEEE Section Saint Maurice, QC, Canada. He is a Professional Engineer and joined the Ordre des Ingénieurs du Québec in 1998.
List of courses taught
GEI1007 Introduction to Electrical Engineering

GEI1043

Design of analog systems
GEI1052 Synthesis activities in electrical engineering
GEI1065 Electrical engineering internship in a company
GEI1082 Introductory internship in electrical engineering in a company
GEI6028 Research seminar
GEI6058 Tutorials
ING1038 Engineering internship
– Doctorate – Electronic Metrology specialty, Henri Poincaré University of Nancy (France) – DEA in Metrology, Automation and Electrical Engineering: Electronic Metrology option, Henri Poincaré University of Nancy (France) – License and Masters in Electronics and Components, Henri Poincaré University of Nancy (France). – Member of the Order of Engineers of Quebec
Field of interest / Area of ​​expertise
– Decentralized production system – Integration of production, storage and electrical energy generation systems – Intelligent local management of residential demand – Impact of integrating electric and hybrid vehicles into the electricity network. – Renewable energy and hydrogen – Instrumentations
N Henao, K Agbossou, S Kelouwani, M Fournier "Unsupervised estimate of the number of electronic thermostats in operation in a residence from a punctual measurement of the total power at the level of the electrical panel" Declaration-invention UQTR and request for patent pending via Aligo 12-01-2017
C Guzman, A Cardenas Gonzales, K Agbossou, M Fournier, É Le Courtois "Smart measurement system and method of power estimation for energy management applications" Declaration-invention UQTR and patent application pending via Aligo 12-01-2017
Agbossou, R. Simard and Mr. Robitaille ower converter system and method ", " United State Patent 6,674,263 " Filing Patent P1184USPR, in Canada and US, 200 August 9, published in March 2011 under the number US 2011/0058398.
Agbossou, TK Bose, S. Kelouwani and R. Simard, "Control system for a renewable energy system based on hydrogen", "United State Patent 6,674,263" and in Canada, January 2004 .

L. Dion, 

K. Agbossou

 "acoustic cavitation reactor for materials processing" 

deposit 

Patent No. 29381-1, 

obtained in Canada and abroad, in 2000.

Roussy, B. Dichtel, 

K. Agbossou

 , "Device for measuring the electromagnetic field in a microwave applicator", 

Patent No. 91-13194, date obtained 02/04/1994.
International collaborations in research and teaching
– University of Savoie, France (2009) – University of Franche-Comté, France, (2007) – University of Lille, France, (2007) – National Higher School of Electricity and Mechanics, Nancy, France, (2006) – School National Engineers of Metz, France, (2005) – University of Abomey-Calavi, Benin (2002) – Kwame Nkrumah University of Science and Technology, Ghana (2002) – University of Lomé, Togo, (1999)
Environment Prize of the "Grands Prix d'Excellence en Transport" from the Association québécoise des transports (AQTr) with the project "Electric utility van with increased range for the Canadian climate", S. Kelouwani, Y. Dubé, K. Agbossou, L . Boulon, R. Chahine, June 2017  

Best

 Student Paper Award at IEEE PES-APPEEC- Xi'an Conference, China-25-28 October, 2016.

Obtaining the decoration 

of Officer of the National Order of Merit

 , by the President of the Republic of Togo, January 2016.

Winner of the education category

 of the "success of the diaspora" competition which aims to honor the talents and achievements of Togolese who stand out for their exemplary professional, associative, cultural or sporting career throughout the world ". January 2016.

Best Presentation Award

 at the session "TS-100: Modeling and simulation in power electronics I" at the Conference of the IEEE Industrial Electronics Society (IECON2015) Yokohama, Japan, November 9-12, 2015.

Award of excellence in research from the University of Quebec at Trois-Rivières

 for 2012-2013 in the sector of "Natural Sciences, Engineering and Health Sciences" 2012-2013.

Five times the Professor of the Year Award from the Department of Electrical Engineering

  : Gala recognizing the quality of teaching and the involvement with students, 2010-2011, 2003-2004, 2000-2001, 1999-2000, 1998-1999.

Special recognition by the UQTR, marking the participation, from January 2003 to December 2005, as a member of an evaluation committee for scholarship applications for one of the six major research funding organizations in Canada, 2005.

Leadership and Recognition Award for service to the profession IEEE 50 

th

  anniversary of the St-Maurice section 2004.

Presidential Award at the "IASTED MIC 2003 Conference", 2003.
IEEE Canada Section Growth Award, 2002.
Leadership Recognition Award for the Direction of the St-Maurice Section, awarded by IEEE Canada, 2002.
IEEE Senior Member Recognition Award, 2001.
Recognition for the contribution to the organization of the international conference on parallel computing in electrical engineering PARALEC "2000".