RCEES supports the Vice Chancellor of UENR to setup the office for Research & Grants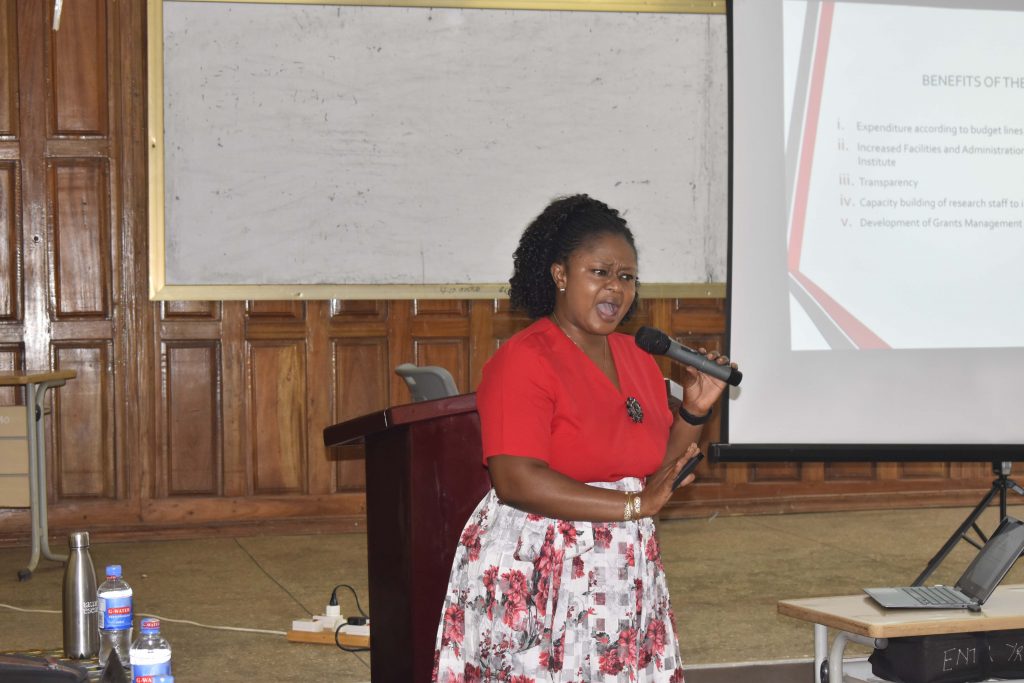 As part of its quest to source funds from various donor, agencies, institutions, the Regional Centre for Energy and Environmental Sustainability (RCEES) and the Vice-Chancellor jointly organized a seminar on setting up Office of Research Support (ORS) at the University of Energy and Natural Resources. The three (3) day seminar, supported by the Noguchi Memorial Institute-University of Ghana which has rich experience in this regard.
The team from Noguchi led by Nana Oye Akuffo took members through.
Presentation:
According to Nana Oye Akuffo (Administrator-ORS), the essence of Office of Research Support is to assist faculty and research staff of the Centre/ UENR efforts to obtain external funding.  The office when setup will provide the policies, procedures, forms, and tools needed to submit research proposals and manage sponsored accounts throughout the life cycle of external funds awarded to faculty, staff, and students.
Benefits of ORS
Nana Oye Akuffo intimated sourcing grants accrues a lot benefits to the individuals and the institution as well. Some of which include
Building capacity of faculty and other staff
Identification of funding sources
Assistance with proposal development
Assistance with budget development
Proposal processing and review
Need for the establishment of ORS
She again outlined the reasons why the Office for Research Support namely;
Compliance issues
Need to apply for and wining big grants
Efficient grants management system
Integrity of the institute
Financial transparency e.g. salary scale
Need for increased research capacity and portfolio
Functions of the ORS
The office when established would provide streamlined and support for the Centre/University in such areas as:
Pre and post award services
Required registration for grants submission
Registration of fellows in eRA common system
Tools for Setting up RMO
Management decision
Recruitment of dedicated staff
Provision of reliable internet
Availability of facilities/resources – software
Regular training
The issues enumerated above forms the first day presentations which ended at 11:54 am