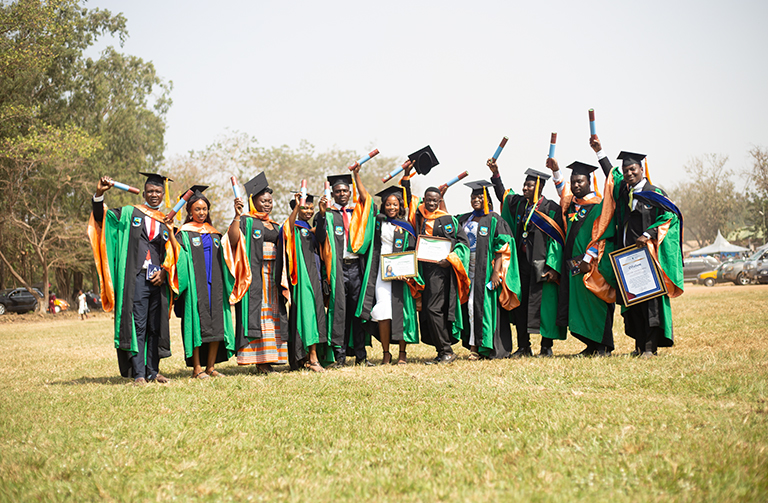 The Regional Center for Energy and Environmental Sustainability RCEES-UENR graduates its 1st cohort of master's students during the University's 6th congregation, in the field of Sustainable Energy Management and Environmental Engineering Management.
The Vice-Chancellor, Prof. Elvis Asare-Bediako in his report acknowledged that the University has embarked on several projects, partnerships, and internationalization including student competitions that have placed the University for International Recognition. Notable among them, Prof. Asare-Bediako said UENR through Regional Center for Energy and Environmental Sustainability (RCEES) and Bochum University of Applied Sciences in Germany joined Solar Taxi to outdoor e-motorbikes which aims at reducing climate change and carbon emissions into the environment with a more energy-friendly mode of transport. He assured that the management of the University would continue to strive to make UENR an enviable institution of academic excellence.
In tandem with the University's vision, the Centre offers quality post-graduate education to provide, discover, preserve and disseminate cutting-edge interdisciplinary research sponsored by the World Bank to assuage and address the incessant problems the continent is faced with.
The rationale for the establishment of the Centre is a response to a call by the World Bank in their quest to mitigate the brain drain in Africa and its sub-Saharan regions. Where students who travel to western countries for quality education refuse to return home which weakens the African economy.
The programme attracted foreign students from Sierra Leone, Burkina Faso, Benin, and a few Ghanaian students. Currently, the Centre has admitted 61 MSc and 17 Ph.D. students respectively for the 2021/2022 academic year.