Solar-Powered Irrigation Systems (SPIS)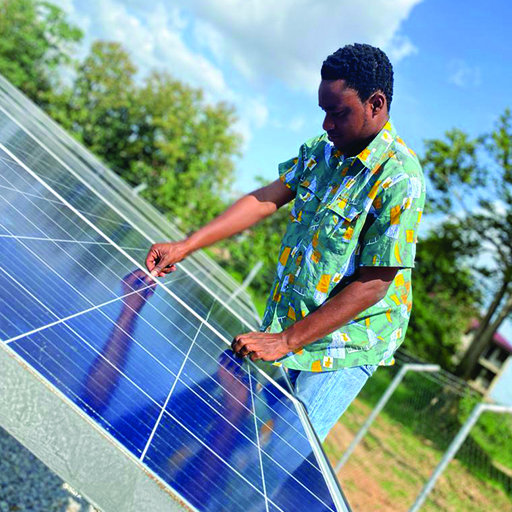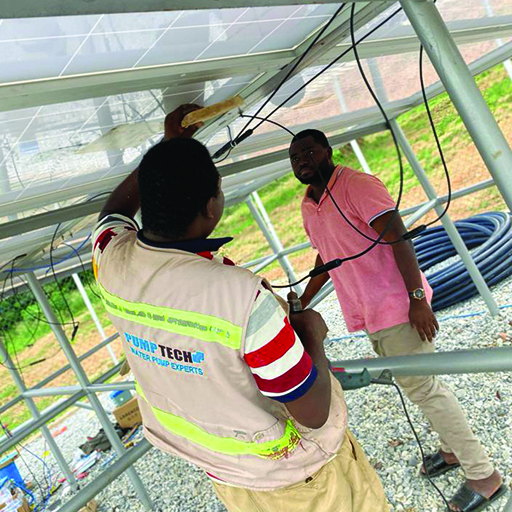 GiZ and the Ministry of Energy (MoEn) are jointly implementing a project dubbed "Green People's Energy", a proposed country measure of a global project commissioned by the German Federal Ministry of Economic Cooperation and Development (BMZ).
The 'Green People's Energy (PGE)' Project has an overall objective to improve conditions for supplying rural regions in selected African countries, including Ghana, with decentralized renewable energy. The project supports the adoption of modern energy services through the introduction of alternative and sustainable renewable energy and energy-efficient technologies with the participation of citizens and businesses. Among other areas, the project focuses on these three areas:
The promotion and further development of the capacities of skilled workers, mainly for solar-powered irrigation systems (SPIS). These workers include SPIS installers, trainers, project development professionals of financial institutions, and users of SPIS.
Access to decentralized renewable energy system for enterprises and social institutions (solar PV systems for income-generating activities; school and health facilities) with incentives; and
The promotion of investment in decentralized RE systems (mobilization of financing by banks and crowdfunding companies).
Under this project RCEES-UENR with technical support from Practica Foundation, Netherlands is charged with the provision of competence-based training for installers, extension staff, and credit officers in the middle and southern belts of Ghana. This will ultimately reduce system downtime through enhanced technical skills and knowhow.
RCEES-UENR is currently inviting applications from prospective candidates to undertake training in solar powered irrigation systems (Finance Session).
Who can attend: Credit Officers from Community Banks, Credit Unions, Micro Finances, Micro Credit Institutions.
Registration Fees: Sponsored by the Green People's Energy project through a grant fund from BMZ.
Training Fees:  Sponsored by the Green People's Energy project through a grant fund from BMZ.
Accommodation & Other Expenses: Fully Paid (Sponsored by the Green People's Energy project through a grant fund from BMZ). Unless a participant decides to secure a different accommodation.
SUBMISSION OF APPLICATIONS
Interested applicants should apply here before or on Thursday, 12th May, 2022 at 5pm.  Applicants will be vetted and successful applicants would be contacted.
For enquires, call 0203142853/050 636 6712.
LIMITED SEATS AVAILABLE FOR THIS SESSION.
FEMALE APPLICANTS WILL BE GIVEN SPECIAL CONSIDERATION.
Certificate of Participation will be awarded to Participants upon successful completion of the Training.